FLORITE® Series of Multifunctional Excipients

FLORITE® Series of Multifunctional Excipients
FLORITE® offers many advantages for various applications such as pharmaceuticals, food, cosmetics, and other industrial uses.
FLORITE® is an inorganic functional material with a unique crystalline structure. It is a multifunctional powder with amazing water and oil absorption properties and excellent moldability.
It has a petal-like structure* not found in other calcium silicates and has deep, large pores. Unlike ordinary porous materials, it therefore has an extremely large pore radius and pore volume.
Substances can move relatively freely within these pores and can be used for adsorption, loading, release, and reaction of substances.
In addition to its use as an adsorbent carrier and compacting agent, FLORITE® can be used for stabilization applications and elution control of active ingredients.
*It differs depending on the item.
Key Features
Liquid Absorbency

Absorb fivefold* amount of liquid of own weight for alteration to powder form
*It differs depending on the item.

Compressibility

Boost tablet hardness in the tableting process, even with a lower tableting pressure. Decrease the risk of compressing troubles such as lamination. Realize direct compression.

Improve Disintegration Speed of Tablets

Realize high disintegration speed by absorbing water inside of tablets even with high hardness

Stabilizing Capability

Protect loading API in the macropore from light and oxygen

Release Control

Increase the dissolution rate of API and fragrance. In the macropore by combination use with polymer for coating

Solid Dispersion

Improve the release property of poorly water-soluble APIs in the macropore by amorphization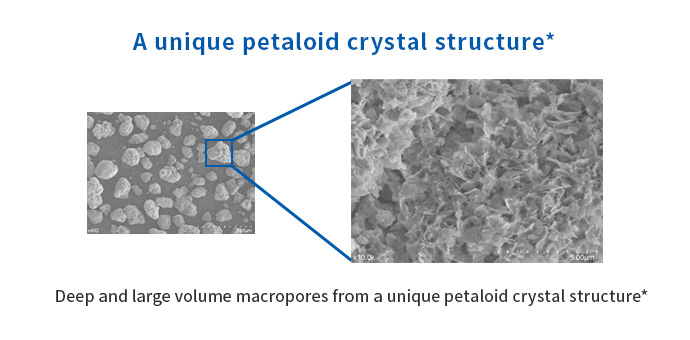 *FLORITE® PS-10 and FLORITE® A1 have different structures.
Liquid Absorbency
Unlike the pore structure of any other porous material, FLORITE®'s unique petaloid crystal structure forms macropores with a large colume within the particle. These macropores are the key factor for the absorbing capacity.
FLORITE® has the ability to absorb and retain an amount of liquid which is approximately five times its own weight. The macropores develop deeply in the vertical direction, and thus the openings of these pores have small areas compared to their volumes. This protects the liquid in the pores from being affected by oxygen, vaper, or other elements in the external environment.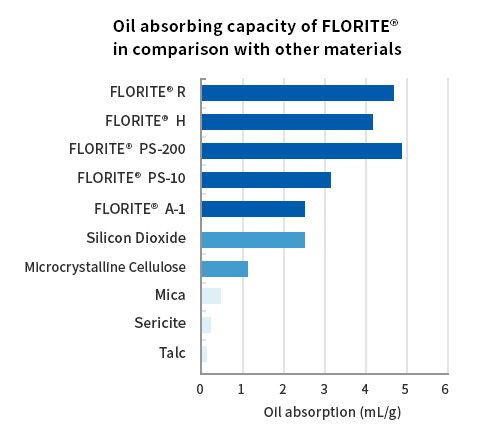 FLORITE® has the ability to absorb and retain an amount of liquid which is approximately five times* its own weight.
*It differs depending on the item.
Improvement of compressibility and disintegration speed of tablets
In the compression process, the crystal stracture of FLORITE® is easily broken at low pressure, and each petaloid structure binds together strongly to exhibit superior binding capability. It can achieve the necessary hardness with minimal pressure, by adding FLORITE® to your formulation.
In addition, it suppresses the lamination of tablets and longer disintegration times caused by high striking pressure and also reduces damage not only to the mortar and pestle but also to the main body of the tableting machine.
It improves the moldability of tablets, and depending on the formulation, it can be manufactured by a direct tableting method excluding the granulation process.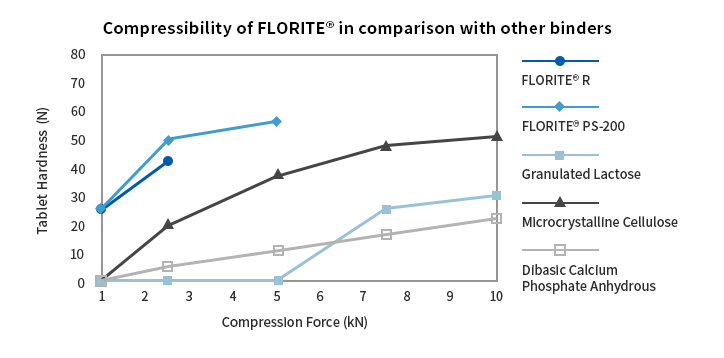 Raw material
Assay
Acetaminophen
22.6 mg
Binder(Any one of them)

FLORITE® R
FLORITE® PS-200
Granulated Lactose
Microcrystalline Cellulose
Dibasic Calcium Phosphate,
Anhydrous

90.2 mg
Crospovidone
6.6 mg
Magnesium Stearate
0.6 mg
Total
120 mg
A powerful binding performance is exhibited at even low compression forces,
and it reaches the preferred tablet hardness with less than half the compression force of the other binder.
Product List
Product
FLORITE® R
FLORITE® H
FLORITE® PS-200
FLORITE® PS-10
FLORITE A-1™
Chemical name
Calcium Silicate
Silicon Dioxide
Appearance
White, Powder
White, Powder
White, Fine granule
White, Fine Powder
White, Fine granule
Crystal structure
Petaloid
Petaloid
Petaloid
–
–
Oil absorbing capacity (mL/g)
4.6
4.3
4.8
3.2
2.5
Loose bulk density

(g/mL)

0.07
0.08
0.07
0.09
0.22
Tapped bulk density

(g/mL)

0.11
0.14
0.10
0.15
0.25
Loose bulk specific volume

(mL/g)

14.4
11.8
13.7
11.0
4.5
Tapped bulk specific volume

(mL/g)

8.8
7.4
10.3
6.6
4.0
Particle size D50

(µm)

30
30
130
10
140
Repose angle

(°)

47
45
40
56
32
pH
9
9
9
10
6.6
Specific surface(m

2

/g)
160
140
200
230
520
Regulation status
NF
*1 JSFA: Japanese Standards of Food Additives
*2 JPE: Japanese Pharmaceutical Excipients
*3 NF: US National Formulary
Recommend application
Powderization and Carrier of Vitamins
Powderization and Carrier of Essential Oils
Powderization and Carrier of Fragrances and Flavors
Powderization and Carrier of Liquid APIs
Solubility Improvement of Poorly Soluble APIs
Producibility Improvement in Compression Process
Binding Booster for Poorly Compressible Formulations